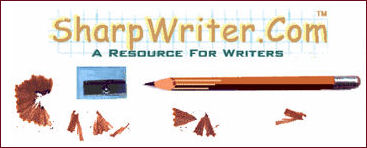 About (FAQ)
Quick History 1998-2006. John T. Cullen (yours truly) launched the original Sharpwriter in August 1998.
My Personal Writer Desktop. My initial purpose in 1998 was to provide myself with a desktop of writer resources. Beginning in April 1996, I had been publishing my novels and short stories online. Constructing SharpWriter.Com (SWC, as I called this portal), I soon saw that these links were useful to many other writers and readers. So I kept building the portal out for myself and others, including a major book review site for mostly RWA friends around the world.
Genesis Years In the 1990s, before e-commerce and before cyber crime, the World Wide Web (WWW, or Internet beyond command line, including attractive user interfaces) was still virginal snow. Clocktower Fiction (later Clocktower Books) had an enthusiastic following of avid readers around the world—a historic fact that, a quarter century later, is almost forgotten. But I'm keeping the memories alive, and continue working, at my webplex that includes this Museum collection. The early WWW was sparsely populated and almost unorganized except for portals like Yahoo and some early search engines, so there was great utility in a writers' resource. In 1999, Writer's Market recognized SWC as "one of the top 101 resources on line for writers."
Amazon Affiliate since 1998. As I launched SWC in 1998, e-commerce was just starting to boom. I became an Amazon affiliate that year, and as I post this (2018) it's been an enjoyable twenty-year run so far, continuing with my currently linked sites.
Webplex: Linked Sites In recent years, I have brought into fruition a concept I had in the late 1990s. I have always had a lot of material, including entire novels since 1996, and this made for one large, cumbersome website. There are other work-arounds, but my webplex concept was to create a purposefully linked net of related websites that have simpler and shallower sitemaps for easy cruising. We've long known that readers browsing will generally not look past the landing page, so it seemed worth trying to have multiple landing pages, each purposed more narrowly to focused search needs. Such sites are much easier to maintain, the filenames are shorter, and hopefully it will all work very smoothly. I'm still watching and hoping for the best. that explains the rather unique navigation profile of my webplex, including linked subplex clusters of small sites. SWC has become at this time a museum page for historical reference. I am considering adding new purpose in the form of a writer blog (maybe; TBD).
Eight Year Run as Portal. As a separate matter, from 1998 to 2007, Clocktower Books published the world's first online-only professional magazine of Speculative Fiction (SFFH). More info on our renowned, history-making magazine at the Museum. The magazine actually had a longer run (ten years) than SharpWriter.Com, which ran eight years. We made history on all sides, it was fun, and I continue building on those foundations well into the 21st Century. All of which is to say, SWC offered some critically important, relevant, and useful information for writers in its day. (JTC)